[vc_row][vc_column][vc_column_text]The Best of Las Vegas is now accepting votes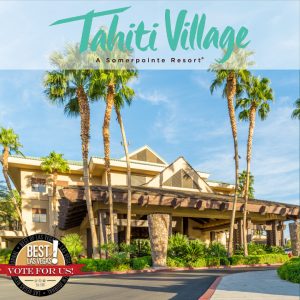 for your 2019 favorites, and family friendly Tahiti Village is vying for the top spot. Tahiti Village, Las Vegas' number one tropical resort, is hoping to win your vote in the following Hotel/Casino categories:
Best family friendly resort
Best Strip hotel pool
Best spa
Best concierge service
Best lobby
Best hotel rooms/suites
If you have ever visited Tahiti Village, situated on 20 lush acres at the south end of the world famous Strip, we think you'll agree we are legitimate contenders for the Best of Las Vegas.
REASONS WHY 
We are a popular resort destination for families from all over the world who enjoy our nonsmoking, non-gaming environment and appreciate the numerous kid friendly activities.
Once here, they flock to our refreshing aquatic attractions, which include the city's longest lazy river and a tropical pool featuring a beach-style entry that encourages hours of sand castle-making fun. Tahiti Village is also one of the few Las Vegas resorts whose pool and lazy river are open year-round.
Recently remodeled, our three-story lobby building is an inviting space for guests to relax with an enticing snack and a specialty coffee drink from the Village Café. The lobby sports a fresh, modern appearance and includes colorful chairs and comfy couches, tables to put your stuff on and decorative space dividers.
Across from check-in you'll find our helpful and knowledgeable concierges. As certified Las Vegas experts, they are happy to answer all your questions and point you in the right direction.
Be sure to ask for directions to Tower 5, where you'll find our Mahana Spa. Tucked away in an intimate setting on the ninth floor, Mahana Spa is a relaxing sanctuary where worries and stress melt away. Our boutique spa offers a variety of services in beautifully appointed, candle-lit treatment rooms.
Lastly, our spacious one- and two-bedroom guest rooms exemplify what the Best of Las Vegas is all about. Ranging from 650 square feet to more than 1,500 square feet, our condo-style accommodations come with numerous convenient amenities, including full kitchens, steam showers and jetted tubs in select units.
We thank you for your consideration and invite you to book a visit to Tahiti Village, Las Vegas' favorite tropical resort.[/vc_column_text][/vc_column][/vc_row][vc_row][vc_column][vc_btn title="VOTE NOW" style="flat" shape="square" color="primary" size="lg" align="center" link="url:https%3A%2F%2Fwww.research.net%2Fr%2FTahitiVillage|title:VOTE%20NOW|target:%20_blank"][/vc_column][/vc_row]