Today is National Super Hero Day!
When you think of a super hero, you think of someone that wears a cape or scales walls, but in this day and age when we think of a super hero we think of all the countless first responders fighting on the front lines against this insidious virus. So we thought it only fitting to honor the Super Hero's in our life today, on National Super Hero Day!
We would like to introduce you to the Vesterfelt Family. Marianne, Tyler, Katie, Blair, Kayla and Noah have been owners with Somerpointe Resorts since 2002. Marianne is a nurse practitioner and the Director of Clinical Services for Optalis Health Care in Michigan.
She runs 9 skilled nursing facilities and 3 assisted livings. They were forced to open 5 COVID units within designated parts of some of her buildings to help with the hospital overflow in her city. She has directed set up, training, policy/procedures on safety and helped with care items within these units, but truth be told her favorite place is bedside, she often will choose a unit where she can spend time next to the patents simply just holding their hands. Her patients are not on ventilators. They require monitoring and therapy. Some come to her on hospice others are trying to stabilize and get stronger to return home. The mental toll is heavy, but so worth it to her. If that isn't a super hero, we don't know what is.
But this is just part of the story, her daughter Katie is finishing her first year in college at Michigan State University awaiting entry into the nursing program. She is currently working as a nursing assistant at Evergreen Health and Rehabilitation Center which is part of Optalis Heath Care system. Evergreen is a dedicated COVID unit recognized as part of the state of emergency relief package provided by Michigan's governor Ms Whitmer. Katie provides for all of the daily needs and assistance to the residents. She works 12 hour shifts with all of the PPE on and NEVER complains.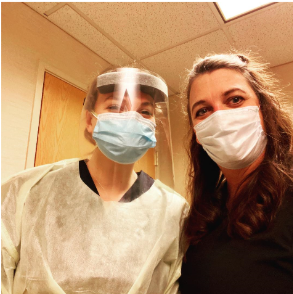 Marianne is amazed at how seamless Katie's transition to healthcare has been. Her mom describes her as fearless and incredibly compassionate. (We wonder where she gets that from )
Marianne and Katie have been away from their family for 4 weeks, all they want is to be back together as a family sitting on a beach, but as the selfless superheroes they are, they know where they are needed now.
We want to honor not only Marianne and Katie but Tyler, Blair, Kayla and Noah for their sacrifice back home. It isn't easy being away from the ones you love.
Without people like Marianne and Katie this world would be a much different place.
The Somerpointe Team wants to thank you from the bottom of our heart, you truly are our super heroes!