The International Consumer Electronics show is one of the most anticipated events in the tech world, representing the best and brightest tech companies and products from 153 countries.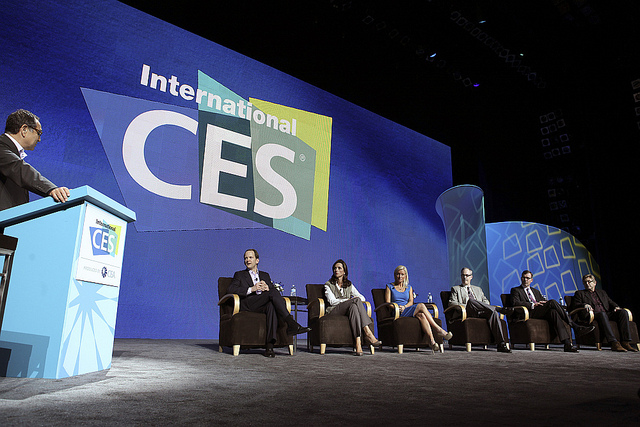 "CES Panel" by Intel Free Press via Flickr / CC BY
More than 170,000 people from around the world attended this year's CES looking to try out some of the most innovative and exciting products. The 2016 CES highlights the cutting edge technology that has grown exponentially since last year's convention. Here's are some of the most exciting and innovative products from this year's CES.
The Faraday Future Car
Faraday Futures, a Chinese-backed electric car company, hopes to build mass-market cars to compete with Tesla on the global market. On Monday night, they introduced their concept car, the FF Zero 1. This 1,000-hp powerhouse contains just a single seat, reminiscent of an airplane cockpit.
Photo Courtesy of Faraday Future
The company employed a modular design in the FF Zero 1, the same design it hopes to use on their production cars of the future. This isn't the last we'll hear of Faraday Futures. In fact, they'll be breaking ground on a North Las Vegas factory later this month.
Samsung Family Hub Smart Refrigerator
Now you can find out what's in your fridge while you're at the supermarket. The Samsung Family Hub Smart Refrigerator can also stream music, take notes, remind you of appointments, and even keep your food cold!
It's the first third-party appliance to feature Amazon's Alexa, the digital personal assistant that will answer all your questions, and make being in the kitchen a lot more fun.
The Fitbit Blaze
Although much smaller, the new rival of the Apple Watch, the Fitbit Blaze is just as exciting. The Blaze offers many of the same features as the Apple Watch — you can make calls, read texts, and plan your day.
Photo Courtesy of Fitbit
Except the Blaze has some added features that make it noteworthy. Now you can customize workout routines, monitor your heart rate, and optimize your sleep without lifting a finger.
Looking Ahead to CES 2017
Want to start planning your 2017 CES adventure? Here are some tips to help you navigate both Las Vegas and the convention.
Register early
The dates are set, and you can plan on being in Vegas from January 5-8, 2017. Tickets usually go on sale in October, and you will save between $200 and $300 if you buy your tickets before the end of December.
Plan Your Transportation
Taxis, Uber, the RTC transit system, and hotel shuttles are all great ways to get around Vegas during the show. Be aware if you do use Uber that Las Vegas limits pick-up locations.
Accommodations
As CES is one of the largest conventions to come to town, it's crucial that you plan and book accommodations in advance.
For easy access to all that CES has to offer, plan your stay at Tahiti Village. It's just a few minutes from the Las Vegas Convention Center, making commuting a breeze and it has all the amenities you will need during your stay.
CES is one of the most exciting and anticipated events in Vegas. Immerse yourself in the vibrant world of cutting-edge tech and discover the best CES has to offer.