Just in time for 2020, after wrinkles, blemishes and those strange skin tags have waged another yearlong war with your appearance, Mahana Spa inside Tahiti Village Resort in Las Vegas is pleased to offer chemical peels to its menu of rejuvenating treatments.
Chemical peels are the lab's answer to nature's ongoing battle with your looks – and the ideal solution for those of us who refuse to grow old gracefully.
Mahana Spa's mild chemical peels will restore a smooth, youthful sheen to your face and boost your confidence to pre-AARP levels.  They will treat fine wrinkles, acne, uneven skin tone and dryness. If you've been avoiding the mirror because you don't like what's staring back, stop by Mahana Spa for a treatment on your visit to Tahiti Village, Las Vegas' favorite tropical paradise.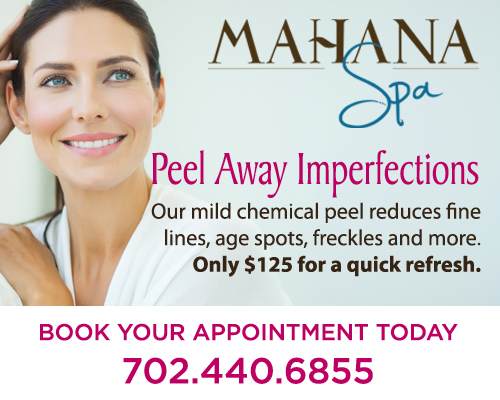 Our highly trained Mahana Spa therapists can have you looking and feeling better in no time, and at a very reasonable price. Chemical peels treat wrinkles, skin discoloration and scars that can mar your face as you age. They can be performed alone or in tandem with other procedures.
Mahana Spa inside Tahiti Village Resort in Las Vegas also offers an array of other rejuvenating treatments and services. Please click here to be directed to the Mahana Spa page on the Tahiti Village website for a complete list of services and descriptions.
Tucked away in an intimate setting on the ninth floor of Tower 5, Mahana Spa is a relaxing sanctuary where worries and stress melt away. Tahiti Village's intimate boutique spa and esthetic treatment center offers a variety of services in beautifully appointed, candle-lit treatment rooms.
Stop in on your next visit to Tahiti Village Resort, Las Vegas' favorite tropical paradise. We are located on the south end of the world famous Strip.