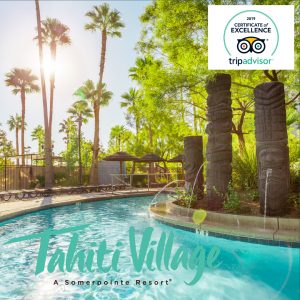 Las Vegas resort paradise Tahiti Village thanks our many visitors for helping us achieve the prestigious TripAdvisor Certificate of Excellence for an eighth consecutive year. As one of the most discussed resorts on the world's largest travel site, with more than 3,500 reviews as of this writing, we are honored to receive the recognition. We think it is testament to our consistency and customer service that we could maintain our level of excellence over thousands of reviews.
The award is given only to the most exceptional performers and top ratings earners in TripAdvisor's global business community. You can be sure we'll work just as diligently to win a ninth straight Certificate of Excellence next year.
In case you didn't know, we are proud members of TripAdvisor's Hall of Fame, an honor we received in 2016 after earning our fifth straight Certificate of Excellence.
We truly appreciate your support and look forward to serving you on your next visit to family friendly Tahiti Village, Las Vegas' favorite tropical resort paradise.