Tahiti Village Resort in Las Vegas is pleased to serve our new official fall drink, the Fall Fashion! Created by executive chef Jason Diaz, the Fall Fashion is a delicious variation on the Old Fashioned and includes bourbon and simple syrup.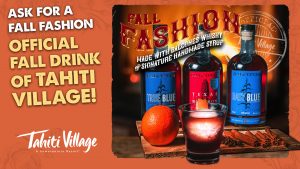 Enjoy the Fall Fashion throughout the fall and winter seasons exclusively at 17˚ South Booze & Bites, Tahiti Village's onsite bar and restaurant. Be sure to book a fall visit to sample Jason's creative twist on his favorite drink.  Or you can easily make the Fall Fashion in the comfort of your home.
Here's how, courtesy of Jason himself.
INGREDIENTS
"I start out by making the simple syrup. I use brown sugar instead of white sugar because it has a deeper flavor, then add cinnamon sticks, whole clove, peppercorns, cherry and orange zest. I let this mixture steep for about 15 minutes. This allows the flavors to release and creates a solid base full of warm, fall-inspired flavors."
PREPARATION
"I muddle the cherry and orange slice in a glass, add the simple syrup, bitters and two ounces of bourbon, stir until well incorporated, and strain into an ice-filled rocks glass."
NEXT
"Enjoy!"
The Fall Fashion is the latest in our line of official Tahiti Village drinks. You will also enjoy the zesty Tahitian Mary and the subtly sweet Tahitian Sunset.
TAHITIAN SUNSET
This delightful drink captures the tropical essence of Tahiti Village. Featuring refreshing Bacardi Lime rum and a mix of proprietary ingredients, the Tahitian Sunset is the perfect drink to enjoy by the pool, at the lazy river, on your balcony – or anywhere!
TAHITIAN MARY
The Tahitian Mary is more than a match for any Vegas hangover. It contains house vodka, green olives, lime and lemon wedges, bread and butter pickles, a celery stick, tajin and bacon. Yes, bacon! It is garnished with jalapeño peppers pickled in-house and flavored with homemade Bloody Mary mix. How we manage to get it all in the stylishly salted glass is beyond us.
Try them all on your next visit to family friendly Tahiti Village, Las Vegas' favorite tropical resort paradise!