The pace of life during the global pandemic was viscous, like watching black tar oozing the span of an inch in the span of a week. We had a lot of catching up to do rectifying the days of thunder, so naturally we tasked professional Nitro Funny Car owner and driver Chad Green with the challenge. We were lucky enough to partner with this driver originally from Midland Texas, and learned why this speed demon recently upgraded from the Pro Mod car to the dangerously faster Funny Nitro Car.
Chad Green Motorsports Meet and Greet at Tahiti Village.
Before Chad Green hit the track, Tahiti Village and Chad Green Motorsports hosted a Meet and Greet for fans and guests alike. Fans and guests came to Tahiti Village and were clearly as excited to meet Chad as we were, as throngs of people and polite hysteria ensued around Chad and his car, where he patiently met all his fans and overdosed on selfies like a true sport. Tahiti Village has a long history supporting the sports world, sponsoring teams like The Golden Knights, Las Vegas Aces, and the Las Vegas Lights. It's a perk and a privilege we always look forward to sharing with our owners and their guests. We were also able to give away tickets to owners to enjoy the NHRA Camping World 4 Wide Nationals that happened April 1st – 3rd.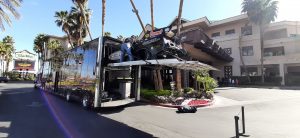 Father Son Duo
Father and Son duo, Chad Green in his Nitro Funny Car, and Hunter Green in his Top Alcohol Car both drove at the NHRA Camping World 4 Wide Nationals in Las Vegas. Hunter Green made his first ever debut in the Top Alcohol Dragster Class. Fans and attendees flocked to see their set-up, enjoying the spoils of these events. Both drivers did exceptionally well, qualifying to race against some of the best.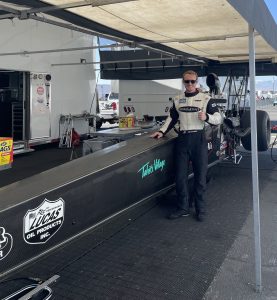 NHRA Las Vegas
Chad Green and Hunter Green will be back in Las Vegas for the NHRA Races happening again in October of 2022. Chad and Hunter will also be back at Tahiti Village enjoying the lazy river and gearing up for the next NHRA Camping World Racing Series for the NHRA Nevada Nationals on October 27 – 30, 2022. NHRA Fans and aficionados can book their stay now at Tahiti Village to be close to the action. This amazing event might even determine the NHRA world championships for the Nitro Funny Car. We know who we will be rooting for!