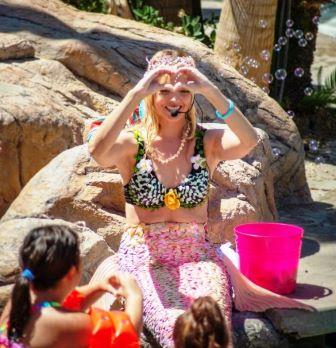 Last week's return of CaySea the Mermaid and Acoustics and Ale to the tropical beach pool marked a welcome early start to summer here at family friendly Tahiti Village, Las Vegas's tropical resort paradise. CaySea will entertain kids of all ages every Saturday from 1-2 p.m. Acoustics and Ale, featuring beer and a revolving cast of acoustic musicians, is every Thursday from 4-7 p.m.
Mermaid CaySea
CaySea, wholesome spawn of an unlikely union, made a big splash with Tahiti Village guests last summer, and we are thrilled to have her back this year. Although her origins were unknown and her motives unclear when she arrived unexpectedly at our pool gate last May, asking to be let in, CaySea's charm and beauty cast a mesmerizing spell on our pool staff – and they had no choice but to acquiesce.
Once inside, she cut through the water like a born descendent of Poseidon, her speckled tail undulating like a piston, and she made a beeline for a group of children frolicking in the shallows near the sandy beach bottom entry. They immediately clustered around her and were instantly captivated by this most unusual creature. CaySea read them "tales" from her mermaid book and engaged in playful games featuring colorful plastic eggs.
To quote Mermaid CaySea herself, it was a "fin-tastic" fun time for all – and will be again!
Acoustics and Ale
When you think about great things that go great together, listening to music and quaffing a cold one has to be high up on anyone's list. Add to that pairing a peaceful poolside setting and you get Acoustics and Ale, our weekly music and beer mixer featuring an array of eclectic (though not electric) musicians from Nick Mattera Productions. If you haven't tried a Sierra Nevada Beer yet, be sure to grab one from the Sandbox Bar. You'll understand why one of the first craft brewers in the nation is still going stronger than ever as you relax poolside listening to great acoustic sounds.
Make sure you don't miss CaySea or Acoustics and Ale this summer. Book a visit to Tahiti Village!