Calling all Las Vegas locals and visitors! It's that exciting time of the year again – the Las Vegas Review Journal's Best of Las Vegas nominations are here. This esteemed contest allows individuals to nominate and celebrate their favorite places across various categories. At Tahiti Village, our focus shines on being nominated for the Best Family Friendly Hotel and Best Strip Hotel Pool, along with a range of other categories.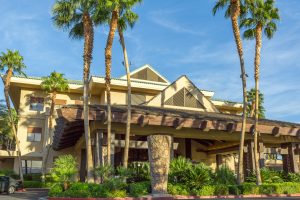 Nominated Categories: Best Family Friendly Hotel, Best Concierge Service, Best Strip Hotel Pool, Best Pizza, Best Family Friendly Show: Luau 
At Tahiti Village, we take pride in being the ultimate family-friendly oasis on the renowned Las Vegas Boulevard, situated just minutes away from the iconic Las Vegas Strip and a stone's throw from Harry Reid International Airport. Our all-suite resort encapsulates the essence of a tropical paradise, providing a serene escape from the city's vibrant energy. Our dedication to exceptional experiences is showcased through a variety of amenities, including an indulgent spa, well-equipped fitness centers, and a celebrated Polynesian-themed pool area that boasts a unique sand beach entry and a tranquil Lazy River with cascading waterfall features. Additionally, we offer an array of onsite dining options, a luxurious spa, an activities center, a concierge service, a sundries shop, and multiple bars.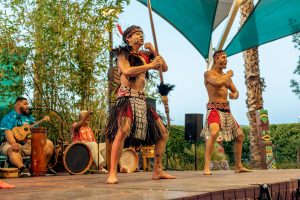 Our commitment to family-friendly entertainment is encapsulated through our family-oriented activities like Beat of Joy, Mermaid Encounter, and our highly anticipated Luau show. The Luau transports you to a Polynesian paradise, combining mesmerizing fire dance performances and island-inspired craft shopping at the Po Makeke (Night Market), all accompanied by a delectable buffet-style dinner. 
Tahiti Village has consistently been recognized in the Best of Las Vegas competition, securing notable wins over the years. In 2022, we earned Bronze for Best Family Friendly Hotel and Gold for Best Strip Hotel Pool. Our journey of excellence continued in 2021 with Gold awards for both categories. The years 2020, 2019, and 2018 saw us achieving Gold and Silver victories, respectively, reflecting our dedication to creating remarkable experiences for all our guests.
As we strive for another round of victories, we emphasize the importance of your votes. Your support has elevated us to the top ranks consistently, and we're determined to continue this trend. Our team, especially our dedicated Concierge staff, plays a pivotal role in ensuring your experience with us is exceptional, providing assistance with show tickets, activity arrangements, and making your stay unforgettable.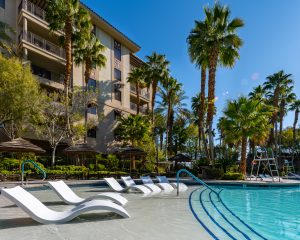 At Tahiti Village, we stand as a testament to the magic of family-friendly experiences. Our Polynesian-themed pool area is a beloved highlight, earning rave reviews from our guests. We're proud to stand among the Best of Las Vegas nominees, representing the epitome of family-focused hospitality. 
As the voting period for Best of Las Vegas commences from August 28th to September 21st, we invite you to cast your vote and help us maintain our top positions. Every vote counts, and your continued support fuels our drive to offer unparalleled family-friendly experiences in the heart of Las Vegas.
We're thrilled to connect with you and share the excitement of the Best of Las Vegas nominations. Make your voice heard and help us secure more gold in our quest for excellence. Don't forget to visit the Best of Las Vegas website to cast your vote and learn more about this exceptional competition. Thank you for being part of our journey – we can't wait to welcome you back to Tahiti Village soon!
Vote for Tahiti Village in our nominated categories by clicking here and explore more about our family-friendly haven by visiting our website or connecting with us on social media, @TahitiVillage.