The conclusion to a busy spring here at family friendly Tahiti Village Resort culminates this weekend in a host of refreshing activities, including the resumption of our popular Summer Luau! To get you in the right frame of mind for the upcoming summer season, we're presenting a pack of poolside fun all day Saturday and Sunday.
Poolside Activities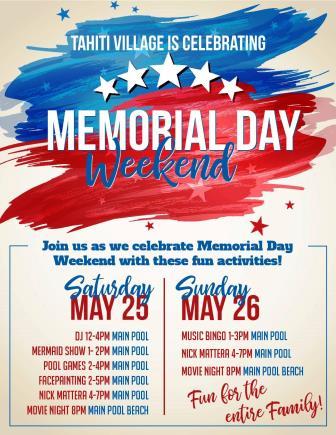 We kick things off at noon on Saturday with our disc jockey, the Tahiti Village Sandman. He will play your favorite tunes throughout the afternoon as you enjoy an hour with Mermaid CaySea, two hours of pool games and three hours face of painting. At 4 p.m. he makes way for Tahiti Village favorite Nick Mattera, who will treat you to three hours of live acoustic music prior to Movie Night at 8 p.m. The fun resumes on Sunday with music bingo from 1-3 p.m., followed by Nick from 4-7 p.m. and Movie Night at 8 p.m.
Sunday Summer Luau
Sunday night, May 26, our weekly Summer Luau returns to the Island Courtyard for another scintillating season of great food and entertainment Don't miss this treat for the senses as our Hot Lava singers, dancers and musicians thrill, delight and whisk you away to a tropical paradise right here in the desert.
Their island offerings include a mix of fun Polynesian songs and hula dances with audience participation. Things really heat up when a master fire twirler hits the stage. You'll be on the edge of your seat!
Join us at Tahiti Village, Las Vegas' tropical resort retreat, every Sunday all summer long for wonderful entertainment and a delicious Tahitian buffet. Chef Jason has prepared a rotating menu of island-inspired cuisine that will keep your taste buds guessing every week.
Doors open at 6:30 p.m. with dinner beginning at 7 p.m. The show will follow shortly after. Leis provided are provided at the door and go great with tropical shirts.
For current pricing and to reserve your tickets, please call (702) 440-6915 or visit the concierge desk in the Tahiti Village main lobby.