Jan. 28, 2020, marks the second annual National Plan for Vacation Day, an idea that encourages Americans to plan their vacations early in the year and take them throughout the next 365 days. The Day is a leisure industry response to a curious trend that has seen Americans forego their vacation days, in many cases out of guilt, to work more often. In a nation of laborers who wear their work ethic like a badge of honor, vacations are well deserved but not often taken.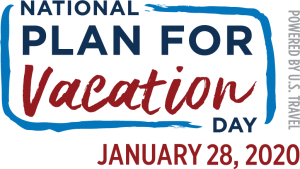 Get this:
Did you know 662 million vacation days went unused by American workers last year?
Were you aware approximately 55 percent of Americans do not use their vacation time in a given year?
Can you believe 60 percent of millennials and 40 percent of people 35 and older actually feel guilty for using their vacation time?
Don't be a statistic.
Our year-round aquatic attractions and new Tiki Cove arcade were also a hit with the Lanes, as they were with readers of the Las Vegas Review-Journal who voted Tahiti Village the Best Family Friendly Pool and Best Family Friendly Hotel in the last year's Best of Las Vegas contest.
If you've never been to Tahiti Village, you simply have to experience a getaway to Las Vegas' tropical resort retreat. Featuring a sand-entry beach pool, lazy river, condo-style accommodations, two 24-hour hot tubs, an onsite restaurant and spa, and shuttle service to the Strip, Tahiti Village has everything you need to relax, unwind and get away from it all. In-room amenities in larger one-bedroom and two-bedroom units include a fully stocked kitchen, washer-dryer, jetted tub, steam shower and private balcony for your convenience and enjoyment.
Book a visit this year to Tahiti Village Resort & Spa by the end of January 2020 and you'll receive 20 percent off your stay!
Plan a visit today to Tahiti Village, Las Vegas' family friendly, tropical resort retreat!