One of Las Vegas' most exciting residencies is raiding the town and it's got the whole city cheering. This particular residency takes place under a glass-domed roof, equipped with state-of-the-art retractable doors, and 65,000 seats overlooking a well-groomed natural grass field. Of course, we're referring to the soon-to-be Las Vegas Raiders and their shiny, new Las Vegas stadium!
The Raiders Las Vegas Stadium Construction
With around 500 workers on site and a 1.8-BILLION-dollar budget, all Las Vegas Raiders Stadium construction employees are cruising at full speed to make their 2020 deadline. That might seem like a long time away, but watching the progression of the beautiful stadium being built will keep us entertained until the Raiders are here for good. There's no doubt that other NFL cities will be quite envious of the final product, as our stadium will be loaded with all the bells and whistles. The black and silver building will shine like a jewel amongst a desert backdrop. Huge retractable doors will open, overlooking a bustling courtyard with the Las Vegas Strip just behind it.
The stadium is also equipped with a swanky, contemporary, fully-stocked bar, similar to a casino experience. Not to mention a below-level parking lot, which is completely unique and perfectly built for Sunday night tailgating. Ticket holders also have the option of booking a stadium suite that promises a "Super Bowl – like experience" every game day with world class luxury and service.
Currently, the stadium is only about 15% complete, so if you'd like to be the first to know about current stadium updates you can sign up to receive the latest information. As an added bonus, you can watch the whole construction process live. Score!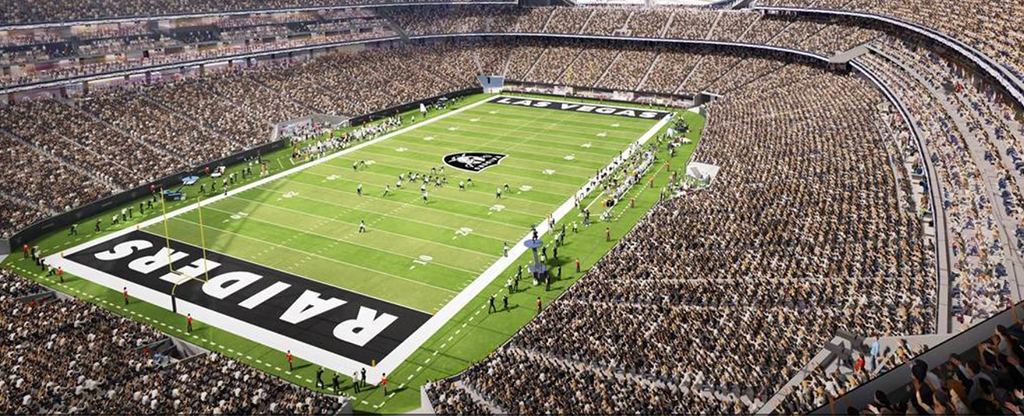 Photo: Manica Architecture // Source: https://www.reviewjournal.com/business/stadium/las-vegas-raiders-stadium-club-psls-to-cost-fans-up-to-75k-each/
Plan a Las Vegas Football Vacation
*Where to Stay
The stadium may not be complete yet, but it's not too early to start planning your Las Vegas football vacation! It may sound like an unorthodox combination… Las Vegas, football, and a tropical paradise hotel… but this is a promising combination worth waiting for. Imagine this: it's gameday and you wake up to your family and closest friends enjoying their morning coffee in the kitchenette of your Tahiti Village suite. With comfortable beds and a cozy atmosphere, everyone is bright-eyed and bushy-tailed, ready for a football-filled day.
With this newly refreshed energy, you are ready watch some football but you're not looking forward to a long drive in big city traffic. Lucky for you, Tahiti Village is a minuscule three miles away from the NFL Las Vegas Raider Stadium. That's barely enough time to blare The Autumn Wind out the car windows for the whole city to hear.
*What to Eat & Drink
Generally, people enjoy a little bit of tailgating before the game but in Vegas, standing under the desert sun on a blacktop parking lot sounds like something you'd rather do later in the NFL season. That being said, Tahiti Village doesn't want you to miss out on all that delicious traditional tailgating food. At 17º S Beers & Bites you can find burgers, fries, wings, slow cooked ribs, nachos, and of course… ice cold beer.
Want to keep the football party going through the night? Just because the day is coming to a close doesn't mean it's time for bed. At the Wiki Wiki Store you can stock up on sodas, beer, and snacks to keep that football momentum going during your entire Las Vegas Tahiti Village vacation.

*How to Recover
So, you watched a winning game, ate some amazing food, and threw back a few cold beers to make for an unforgettable gameday. However, did watching all those buff athletes have you feeling a little less than physically fit? Then head to Tahiti Village's fully equipped fitness center and start pumping that iron. The fitness center includes treadmills, ellipticals, stationary bikes, and a wide variety of strength equipment so you can leave feeling as ripped as Derek Carr.
Or maybe watching all those hard-working football players had the opposite effect, and seeing all that physical activity actually wore you out. Well, there's no better way to embrace lethargy than a relaxing Lazy River! Grab a complimentary Lazy River Tube and peacefully float around the 1/8th of a mile serenity decorated with beautiful waterfalls as Tahitian Tiki Torches light your path, where you can dream of the next time you spend a Raiders game day celebrating in Las Vegas.
As the Entertainment Capital of the World, it only makes sense that one of the most popular sports makes Las Vegas home. Our Valley has a lot to look forward to with the NFL digging their cleats into our desert sands, and Tahiti Village is happy to be your oasis for every kick-off.