Plan the Perfect Christmas Vacation
At Tahiti Village of course! Christmas is a great time to visit Las Vegas! Thinking of spending the holidays in a different setting? Enjoy a fun-filled holiday season in Las Vegas with these top attractions. Some of the best Christmas activities in town include shopping, dining and entertainment at some of the finest hotels on the strip. Enjoy cool temperatures and the beautiful city of Las Vegas during the holidays this winter season.
Stay at Tahiti Village for the Holidays
A vacation for Christmas is just what you need and there are so many reasons to visit Las Vegas during the most wonderful time of the year. We have cooler temperatures but it is not freezing, perfect for staying in one of the hot tubs at Tahiti Village all day long. Relax this holiday season by floating down the heated lazy river at Tahiti Village and enjoying the steam showers in the Bora Bora and Royal Tahitian suites. There are so many activities for guests to enjoy in Las Vegas in the winter, guests can enjoy the Bellagio Botanical Gardens, the Las Vegas Speedway's 'Glittering Lights', Opportunity Village's 'Magical Forest,' and of course the New Year's Eve fireworks!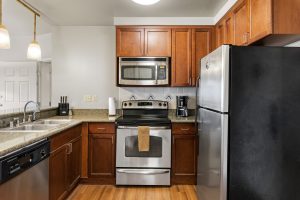 What to do in Vegas this Holiday Season
Tahiti Village is the perfect place to have your holiday festivities. Take your holiday traditions to Las Vegas and spend quality time with the whole family in our all-suite resort. Guests can cook Christmas morning breakfast right in their suite and then open up presents. Take a relaxing dip into our sand-entry pool and float down our amazing lazy river, heated to over 80 degrees in the winter for our guests to enjoy. Build a gingerbread house or bake cinnamon rolls in your room and take advantage of the full kitchen in the Bora Bora suite and the Royal Tahitian suite. One of the best things about Vegas, is that everything is almost always open! Tahiti Village is open all holiday season long, as well as our restaurants 17 South and Arturo's Village Pizzeria!
Get your holiday shopping on just across the street from Tahiti Village. Town Square is a shopping center just up the road from Tahiti Village and the Las Vegas South Premium Outlets are right next to Tahiti Village. Shop at all your favorite stores, and take your goodies back to your suite for your Christmas celebration. Shop till you drop at Kate Spade, Michael Kors, Vans, Tommy Hilfiger and more at the Las Vegas South Premium Outlets. Town Square has everything you need for Christmas shopping with H&M, Kay Jewelers, Sunglass Hut, The Container Store, Victoria's Secret, Ulta and more!
The Bellagio Conservatory and Botanical Garden is a free attraction that displays beautiful flowers, trees, walkways, bridges, and plants of all varieties. Every season the theme of the botanical garden changes into an amazing new floor to ceiling display. This season guests can see the holiday display between November 20th 2021 – January 1st 2022. The Fountains at The Bellagio also have Holiday themed performances every year. The water show features Christmas music and is held from December 5 2021 – January 3, 2022!
Ethel M Chocolate Factory has an amazing 3-acre botanical cactus garden full of beautiful types of cacti including agave, prickly pear, and aloe plants. During the holiday season, Ethel M Chocolate Factory decorates the cactus garden in beautiful Christmas lights and decorations. Walking around the cactus garden is free for guests. Ethel M chocolates are also the perfect gift for friends and family this holiday season. Delight in a gourmet variety of caramels, brittles, and all different flavors of chocolate. Make sure to make reservations here to see the winter wonderland of festive lights and decorated cacti.
The Las Vegas Speedway hosts Glittering Lights – A Drive-Thru Lights Show from November 12th 2021 until January 9th, 2022! Guests can buy tickets and drive through the lights show, admiring and experiencing the holiday themed lights show. Glittering Lights is the perfect holiday activity for the whole family. Guests will enjoy the warmth and comfort of their car, and the glittering and beautiful lights outside as they drive through the show. Did we mention it takes about 40 minutes to drive through the whole entire show? Purchase tickets here! 
Christmas is all about Giving
Opportunity Village is a self-funded foundation that raises money through donations with partners to fund events such as the Magical Forest. Opportunity Village runs the Magical Forest as a fundraiser for their main cause, which is helping children and adults with disabilities find work so they can live the fullest lives possible. Magical Forest has been in operation for 30 years in Las Vegas and is a fun and exciting winter wonderland for all ages! Drink hot cocoa, enjoy amusement rides, and see all that this winter wonderland has to offer! Tahiti Village is proud to be a partner with Opportunity Village, and all of the money donated into our wishing well is donated to Opportunity Village every year. Buy your tickets for the Magical Forest here! 
Ring in the New Year at Tahiti Village
Grab a bottle of your favorite champagne and enjoy the view from your cozy suite or guests can head up to our Tenth Floor balcony in tower 5! Tower 5 at Tahiti Village has a breath-taking view of the whole entire Strip. Hang out at our Tenth Floor balcony and get a panoramic view of all of the lights and fireworks celebrating the New Year. The Plaza hotel will have a firework show, along with fireworks being set off from the rooftops of the ARIA, the STRAT, Treasure Island, Planet Hollywood, MGM Grand, The Venetian, and Caesars Place! There will be over 80,000 fireworks explosions in the amazing New Year's Eve show! See the whole show from the start of the Strip to the end of the Strip at our Balcony view. If you are looking to enjoy a lowkey celebration, watch the Time Square Ball Drop in your suite and enjoy all of the comforts of home!