New Year's Eve in a place like Las Vegas would seem almost beside the point if the city itself weren't a testament to excess. Not enough neon? Hey, let's set off some sky explosion! Like July 4th, New Year's Eve brings out our redundant, over-the-top best, with a spectacular fireworks display closing the curtain on another year.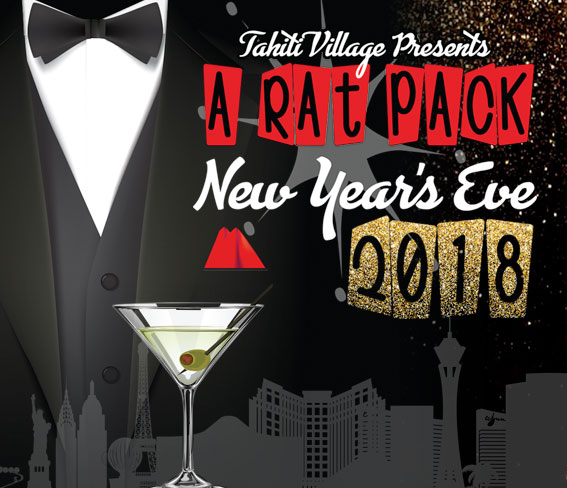 So how do you distinguish New Year's Eve in Las Vegas from any other night? Not easily. We are a city for which New Year's revelry is a daily occurrence in spirit if not fact, so in order to meet the expectations of 300,000 or so visitors hoping for an even greater adrenaline rush, we are obligated to up our game – if that's possible.
Well guess what? It is! There are an abundance of New Year's Eve festivities in Las Vegas, highlighted by an eight-minute midnight fireworks display above the Strip that is being touted as the largest anywhere in the country. If you're staying at Tahiti Village over the holiday and looking for something to do on NYE, we invite you to attend our annual New Year's Eve party.
We're ringing in 2019 with a Rat Pack-themed celebration that evokes the classic days of Las Vegas when Frank, Dean and Sammy ruled the Strip like royalty. Join us Dec. 31 in our Sky View lounge for a wonderful New Year's Eve bash featuring Rat Pack-style cocktails, music and decorations and a spectacular view of the midnight fireworks. We'll also have enticing hors d'oeuvres, an open bar, dancing, a photo booth and party favors. One lucky guest will go home with a bottle of Sinatra Select Whiskey from Jack Daniel's.
Our Sky View lounge, on the 10th floor of Tower 5, offers a magnificent, unimpeded view of the fireworks display from the Strip, which this year is touted as the nation's largest. You'll enjoy a complimentary champagne toast at midnight as we ring in 2019. The Tahiti Village New Year's Eve party is one of the best bargains in Las Vegas, with tickets priced at $105 in advance and $125 at the door. To purchase, please see the concierge in the main lobby or call (702) 440-6915. We hope to see you here and wish you all a healthy, happy, and prosperous 2019!