Meet Jayne Hirschi from the Front Desk!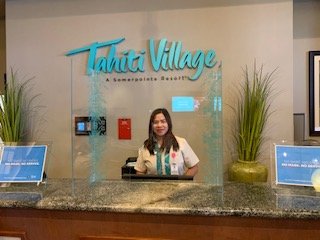 Our Front Desk Staff are such a huge part of the resort and we could not be more thankful for everything that they do every day for our guests and owners. Some of you may have met Jayne Hirschi when checking in or checking out of the resort; she has been such an amazing member of our Tahiti Village family and we wanted to introduce her to you!
Jayne Hirschi has been a part of our team for almost 3 years and has worked in the Hospitality industry for 10 years. She graduated with a Bachelor in Hospitality Management from her home country in the Philippines.
Hirschi has worked in many different areas of Tourism and provides a wide range of knowledge and understanding. She has worked with airline, travel agencies, and hotels both in her home country, the Middle East, and in the United States.
"When I migrated from the Philippines way back 2010, I worked in the Central Reservations Department for Ritz-Carlton for 4 years," said Hirschi.
Hirschi is a people person through and through and loves being able to interact with guests and owners from all over the world and being able to learn other cultures.
"Jayne always brings a cheerful and welcoming attitude to share with her coworkers and guests every day! On special occasions, she will even bake a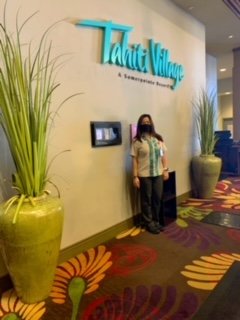 sweet treat or savory surprise for her colleagues to enjoy. She has a great knack for remembering birthdays and makes everyone feel special to brighten up their day!" said Jose Ramirez-Quant, Guest Service Manager.
Being in the industry for 10 years now, Hirschi says that working the Front Desk takes a lot of love, love for people, guests, co-workers, and love for the industry. Strength and focus are two key traits that Hirschi claims every Front Desk person needs.
"Jayne checked us in at the front desk. She was really great! Provided recommendations and wanted to make sure we had a great experience," said a Tahiti Village guest.
Hirschi is always putting her best foot forward and making sure that guest's first experiences at the resort are one's to remember. Her happy and cheerful personality draws people to her and creates such a warm and welcoming environment.
"Always look at the bright side of life, let's all give love and respect to one another," said Hirshci.
We are so thankful to have Jayne as part of the Tahiti Village family!