Las Vegas may be located in the desert, but there's watering holes everywhere! You've likely heard about all the fun that can be had when you're at the best pools in Las Vegas, so find the right location for you. From party pools to kid-friendly pools to lounging pools, this city has it all. Whether you're looking to soak up the sun and relax in your own private cabana, do some socializing, or splish splash with the kids, Tahiti Village highlights the best pools in Las Vegas.
Get ready to put on your swimsuits and lather on sunscreen because there's no better way to spend your Las Vegas summer vacation than at the pool!
Best Pool in Las Vegas with a Beach
Mandalay Bay has all the sand and surf you can ask for! Beach at Mandalay Bay offers a lazy river, lounging areas, and plenty of opportunities to get your fill of the Las Vegas pool experience. This world-famous aquatic playground features 2,700 tons of real sand, a 1.6 million gallon wave pool and 100 cabanas, day beds, and personalized villas for rent. Grab a specialty cocktail and float along the lazy river or make some waves at the wave pool as you enjoy all that Mandalay Bay has to offer. And the fun doesn't stop when the sun goes down! From May through September, Mandalay Bay's Beach Concert Series invites music lovers to bring their blankets or float in the surf during the evening as they listen to some of the biggest touring acts.
Hours of Operation: 8:00 AM – 8:00 PM (Monday through Sunday)
Admission: Complimentary for hotel guests. Non-hotel guests with paid admission, Monday through Thursday.
-Adults $20
-Kids 4-16 $10
-Kids 3 and under: Complimentary
Best Pool in Las Vegas for the Whole Group
Caesars Palace offers an expansive pool area – so massive that it's comprised of seven different pools that offer something for everyone! A pool day at Caesars Palace is a royal treat. The Garden of the Gods Pool Oasis offers some of the best pools in Las Vegas, with its luxurious cabanas, comfortable chairs, and decadent Roman architecture. The seven Garden of the Gods pools offer distinctive experiences for sun loungers, socializers, and gamblers alike, offering a pool for every mood. Play swim-up blackjack and quench your thirst with a signature mojito at Fortuna Pool or worship the sun gods and enjoy maximum sun exposure at the Apollo Pool. You won't want to leave this epicenter of relaxation!
Hours of Operation: 8:00 AM – 7:00 PM (Daily)
Admission: Complimentary for hotel guests, $20 for non-hotel guests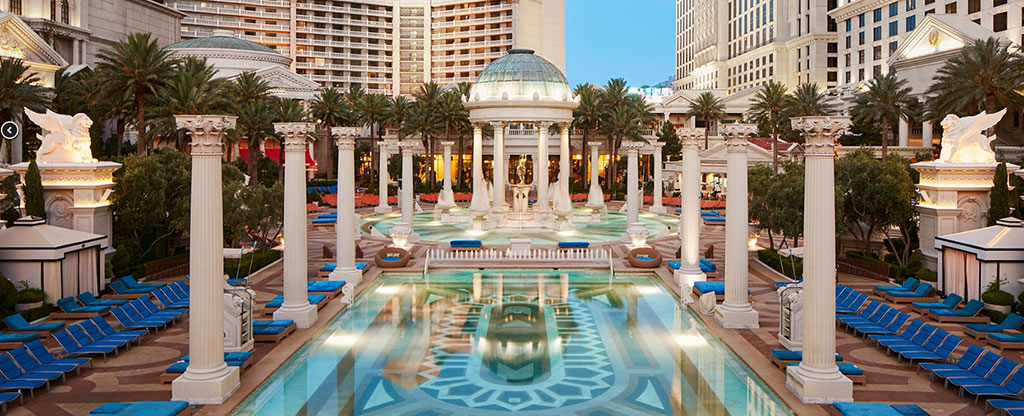 Attribute: http://www.caesarstravelagents.com/AgentResources/ImageGallery/LasVegasImageGallery/CaesarsPalace
Best "Adults Only" Pool in Las Vegas
Bare Pool Lounge at the Mirage offers European-style (topless) sunbathing in palm tree-enclosed seclusion for those 21+. Because of the very nature of this pool, it's easy to understand why Bare Pool Lounge is an adult only pool. Bare's tropical setting and intimate 14,000 sq ft environment offers six cabanas, eight VIP beds, eight daybeds, four tables and two luxury dipping pools. Guests are invited to sit back, relax, and tan (without the tan lines)!
Hours of Operation: 11:00 AM – 5:00 PM (Daily)
Admission: Men: $20, Women: $10 (Thursday through Monday)
Best Pool in Las Vegas for Families
Tahiti Village Resort and Spa is the top location if you're looking to get away from the madness of the Las Vegas Strip. Tahiti Village Resort offers one of the best pools in Las Vegas that the kids (and kids at heart) will love. Feel like you've stepped into a Tahitian dream when you set your eyes on its free-form pool with shallow, sandy beach entry. Experience total relaxation as you float down a ⅛ mile lazy river surrounded by tiki poles that spout out water. Waterfalls from overhead rocks and bridges will also cool you off as you float along this tranquil river bed. Guests are also given complimentary lazy river tubes to use for the day. Tahiti Village Resort offers an experience that the kids will enjoy at a price parents will love!
Hours of Operation: Summer Pool Hours (Daily)
-Main Pool: 8:00 AM – 10:00 PM
-Lazy River: 10:00 AM – 10:00 PM
-2 Hot Tubs: 24 Hours
Admission: Complimentary for hotel guests
Best Pool in Downtown Las Vegas
The Tank is a $30 million award-winning pool located at the Golden Nugget in Downtown Las Vegas. Great for people of all ages, The Tank at the Golden Nugget features a 200,000 gallon shark tank where swimmers can get up-close and personal with the sharks. If that's not enough, The Tank has an 3-story high enclosed water slide that goes through the center of the shark tank. The pool offers cascading waterfalls from its upper deck and guests can either rent private cabanas or simply lounge on the chairs, located both inside and out of the pool.
Hours of Operation: 9:00 AM – 7:00 PM (Daily)
Admission: Complimentary for hotel guests
-$25 (Monday through Thursday)
-$35 (Friday through Sunday)
-Kids under 6 are free
Attribute: https://www.goldennugget.com/las-vegas/amenities/h2o-pool/
Lounging by a Las Vegas pool offers something for everyone. Pack your bags (and your sunscreen) and get ready for everything Las Vegas swimming pools have to offer.