Festivals in Las Vegas are like no other festivals in the world. They are eclectic, exciting, and sometimes over-the-top. Each year more festivals are added to an already bustling event calendar. Here's a look at some of the best Vegas festivals you won't want to miss.
Photo from PhotoFM.com via Flickr / CC BY
Rock in Rio USA
Although the next Rock in Rio USA won't happen until 2017, it deserves an honorable mention. This enormously popular event began in Rio de Janeiro as a tribute to serious rock n' roll.
In 2015, Las Vegas was home to the first-ever Rock in Rio held in the United States, and it was a huge success. The event featured several stages, shopping and dining opportunities, and even a Ferris wheel and a zip line.
Viva Las Vegas
Four days of Rockabilly music, an eclectic Tiki Pool Party, the famous Guitar Geek Festival Show, and one of the world's finest car shows all rolled into one. This festival is great for anyone looking for a unique experience full of plenty of exciting and different activities including a pin-up model contest.
Photo:
Viva Las Vegas is vintage all the way through, and you can get in on the action from April 14-17, 2016.
I Heart Radio
The I Heart Radio Music Festival features the biggest names from a myriad of genres — rock, country, pop, and hip-hop. This two-day event features two stages, one for veteran performers and the other for up-and-coming stars.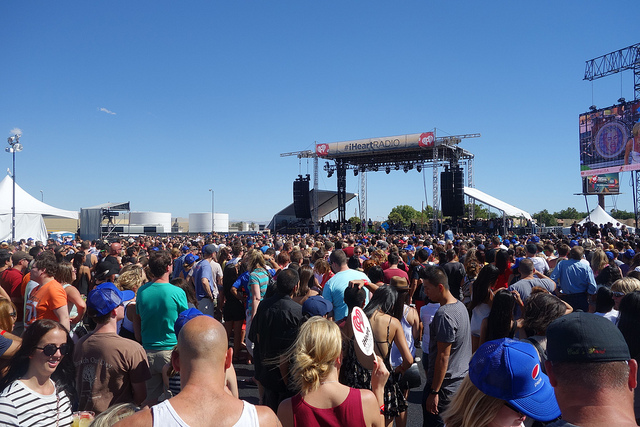 "I Heart Radio Music Festival 2013" by kennejima via Flickr / CC BY
The lineup for the 2016 festival is yet to be released, but you know it's going to be big — just like the previous five years! Although tickets are not on sale yet, be sure to buy them early as they sell out every year. The Festival takes place in September of 2016.
The San Gennaro Feast
Five days of celebrating all things Italian, this epicurean delight is held bi-annually to honor the Patron Saint of Naples Italy, San Gennaro. This Las Vegas staple is one of the most exciting and delicious festivals of the year.
The 37th installment of the festival takes place from May 4-8, and it will feature food vendors, arts and crafts, more than 50 performers, and amusement rides. You're not going to want to miss this fun family-friendly event, even if you're not Italian!
Tips for Attending a Festival in Las Vegas
Weather
The weather in Las Vegas can be brutal for the unprepared. Be sure to stay hydrated, wear sunblock, and pack a coat for the cool, desert nights.
Accommodations
Plan and book accommodations well in advance for your festival stay in Las Vegas. Lodging fills up quickly during festival season, and if you don't book early, you could end up paying more for less.
The best suites in Las Vegas are those close to where the festivals take place. Tahiti Village is located close to several major freeways and is just minutes from the iconic Las Vegas Strip.
Transportation
Make use of public transportation, or even hotel shuttles. If you're attending one of the larger festivals, you don't want to have to worry about parking. Leave the driving to someone else, and make use of the public transit system. Las Vegas also has a thriving Uber network and taxi service.
Las Vegas festivals are a great way to experience the city. Get your groove on with titillating sounds, world-class entertainment, culinary adventures, and cutting edge art. It's a scene that you won't want to miss.