When it comes to eating healthy during a vacation, some destinations make it more challenging than rewarding. Las Vegas is not one of those places. The city is packed with both vegan and vegetarian dining options that will wow you and your tastebuds. Eating healthy and enjoying vegan and vegetarian dishes is not only easy in Las Vegas, but delicious.
Here are some of the best vegetarian restaurants in Las Vegas:
VegeNation
As the name suggests VegeNation features a mix of foods inspired by nations across the world. If you crave both veggies and diversity, this is the place to visit during your trip to Las Vegas. Their slogan boasts "Fresh global street food that makes you feel really damn good" – and their dedicated local following agrees. Favorite dishes include dumplings, cauliflower wings, and eggplant stacks. The creativity infused into each dish makes VegeNation a treat for vegans, vegetarians, and those who just love great food.
Attribute: http://www.govegan.cafe/location.php
Go Vegan Cafe
Nestled in beautiful west Las Vegas, Go Vegan Cafe aims to make comfort food as clean as possible. Their menu is full of decadent goodies like burritos, pizzas, sandwiches, and enchiladas, all with the full-on vegan treatment. The market features clean, vegan dry goods and personal products so that you can extend the vegan mentality into other aspects of your life. Go Vegan Cafe is open for breakfast, lunch, and dinner and is perfect for getting a mid-afternoon pick-me-up thanks to the many delicious smoothies and snacks.
Veggie House Las Vegas
If you love your Chinese food but live a vegan or vegetarian lifestyle, you'll find exactly what you're looking for at Veggie House Las Vegas. Menu items include traditional Chinese dishes like stir fry and noodles prepared with meat substitutes that some argue are better than the actual meat. Located in a strip mall in Chinatown, Veggie House is repeatedly voted one of the best vegetarian restaurants in Las Vegas.

Komol
While not every item on the menu is vegan or vegetarian, this place is known for delicious vegetarian dining in Las Vegas.  Komol features one of the largest selections of Thai vegan and vegetarian dishes in the city. From dairy-free desserts to veggie spring rolls, these dishes are passed down from generation to generation and the flavors have been maintained over time.
Violette's Vegan
Open for breakfast, lunch, and dinner, Violette's Vegan is the perfect vegetarian restaurant in Las Vegas for your casual dining needs. For breakfast, Violette's serves up a mix of scrambles, plant-based breakfast meats, and burritos, while lunch and dinner options include sandwiches, salads, and pasta. No matter what you order, each dish is sure to be homemade with organic, local ingredients.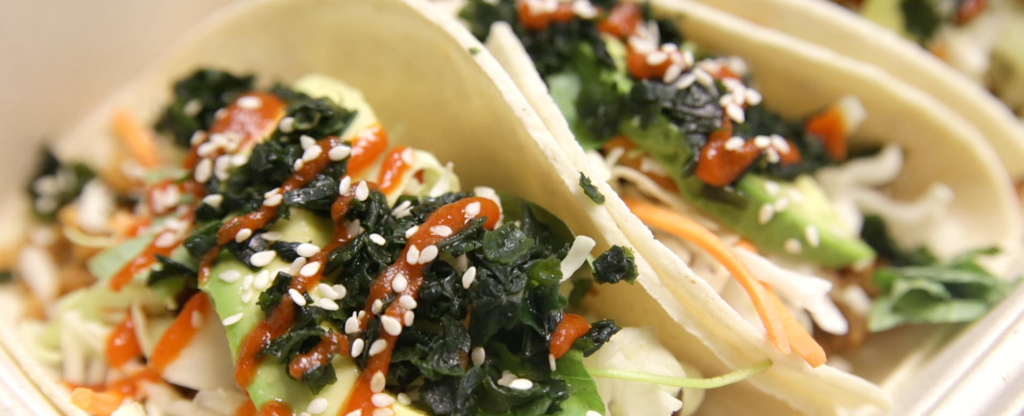 Attribute: http://www.simplypurelv.com/
Simply Pure
Creative raw and cooked vegan fare decorates the menu at Simply Pure. Created by chef Stacey Dougan, Simply Pure sets the bar for vegetarian dining in Las Vegas that appeases even picky meat-eaters, too. Favorite dishes among locals include the grilled cheese with tomatoes and the pesto and green chile enchiladas. Simply Pure also features a fresh juice bar so you can both eat and drink with confidence.
Bronze Cafe
Located on Fremont Street and 6th, Bronze Cafe is locally known as one of the best vegetarian restaurants in Las Vegas. This place specializes in breakfast and lunch and serves up delicious baked treats like chocolate mocha cake and vegan tres leche cake. Locals enjoy stopping in for fresh gourmet sandwiches and yummy snacks that make a vegan lifestyle not only healthy, but decadent.
Maintaining a vegan or vegetarian lifestyle doesn't have to mean sacrificing the experience of the Las Vegas food scene. The city is full of eateries ranging from fancy to casual that make eating healthy a delectable experience.