This pandemic has been taxing and stressful on everyone, that is no secret. In this time of unknowing, it is nice to shed light on the good happening, as well; especially right here in the Las Vegas community. A beam of light is the creation of Chefs4Vegas.
During the state shut down, there was a surplus of food and products that many chefs and restaurants were sitting on. As a result, many were reaching out to venders and colleagues for advice on where to try and appropriately dispose of the items. Tahiti Village's Executive Chef, Jason Diaz and other local chefs gathered together on April 18th in a dirt lot off of Tenaya and Warm Springs to find a solution.
After brainstorming, talking, and creating a blue print it was there in that dirt lot that Chefs4Vegas was created. "It even rained on us that day but that didn't stop us from doing what we felt was right," said Daiz.
That following week they set up a food bank with the help of other vendors and local chefs, in that day they were able to feed over 300 families in need. "Whenever you can give to your community and provide for them, it is heartwarming," said Diaz.
This was supposed to be a one-time deal, however the demand grew, the families in need increased and Chefs4Vegas continued helping the community for 10 consecutive weeks. To date, the chefs as a group along with other community partners have provided sustenance to over 10,000 local Las Vegas families.
On June 16th, Chefs4Vegas was awarded a Proclamation from the City of Las Vegas for helping the local community in time of crisis. Chefs4Vegas has now been granted a 501C3, which acknowledges them as a full-fledged nonprofit organization.
"I grew up with not a whole bunch and I relied on food pantries. I know how much that means to a community and I know how much that means to a lot of people. If I could give back and do that, try to do right for them, that's all this is really about," said Diaz.
June 24th was another big day for Chefs4Vegas as they traveled to McGill, Nevada to set up a food pantry for that community. "This pandemic really hit hard in that area and there were lots of reports of people not having a lot to survive on. It is very sad times we are in," said Diaz.
In the midst of all of the sadness, it is heartwarming to know that there are good people in our community that care and are willing to go the extra mile to make sure that everyone has what is necessary during these times.
"The thank you's and the social media posts from some of these people that really, really needed it is amazing. There is no better feeling then to give back to your community," said Diaz.
Be sure to give Chef Jason a social distanced high-five or say hello the next time you see him. He and many others have done so much for Las Vegas in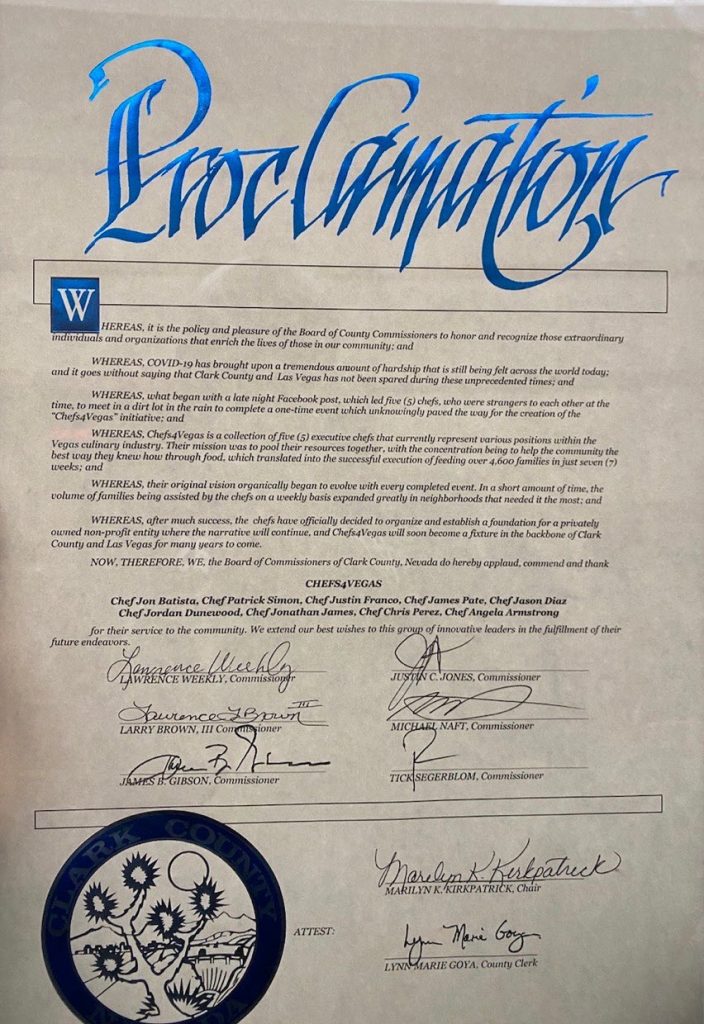 such a short amount of time. We are extremely proud of our Chef and all that he has done and continues to do every day.
We would also like to say thank you to the other chefs and some of the vendors involved in Chefs4Vegas!
The President of the American Culinary Federation and the Executive Banquet Chef of Tropicana, Justin Franco
The Corporate Executive Chef of Welbilt, Patrick Simon
Executive Chef of YourPandas Food Truck, Jonathan Batista and owner, Janelle Batista
Executive Chef of the SpringHill Suites by Marriott, James Pate
And so many more!