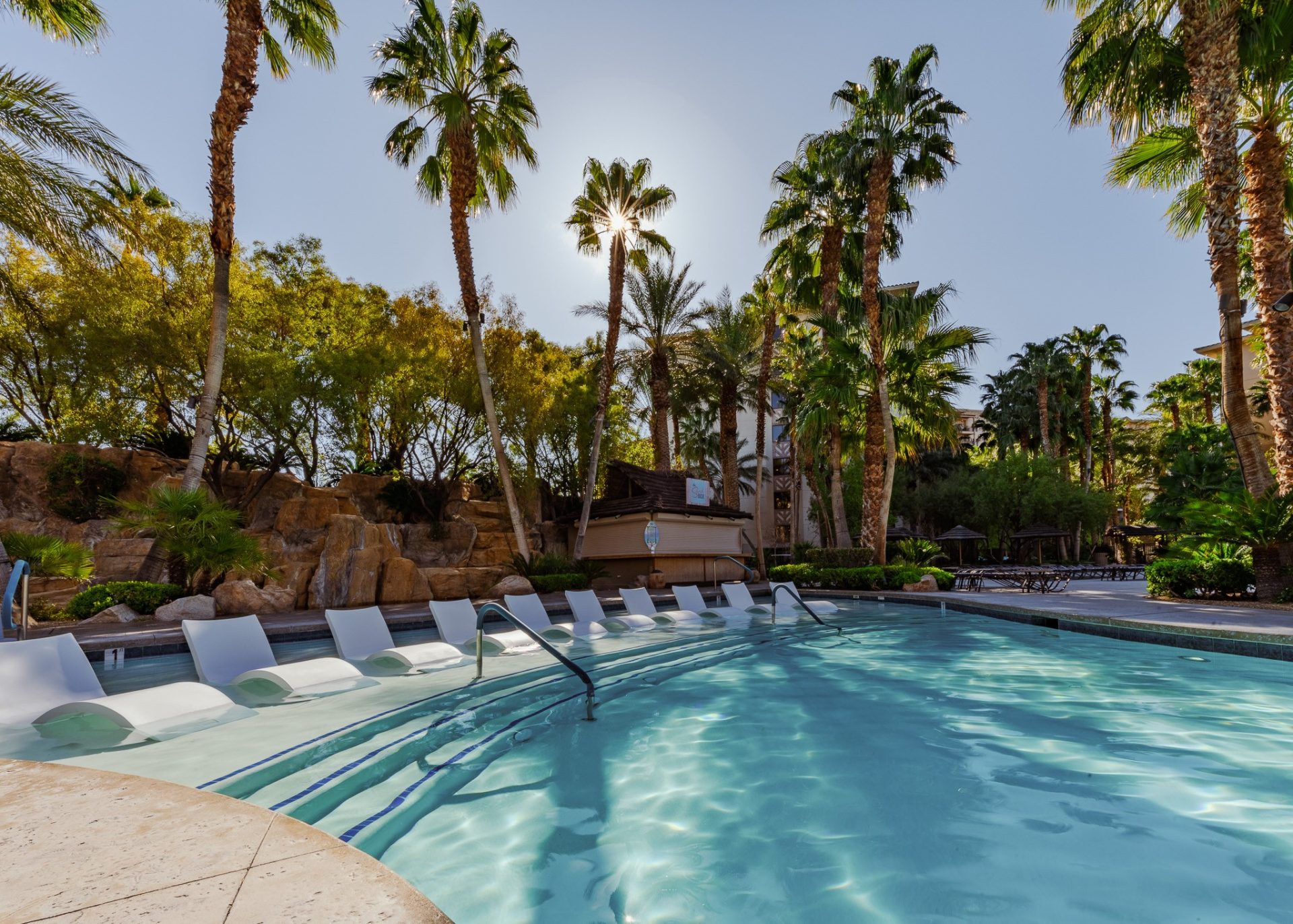 Tahiti Village's swimming pool in Las Vegas has recently won the Best of Las Vegas award, and it's no surprise why. The resort's swimming pool is a true oasis in the middle of the desert, with its tropical landscaping and numerous water features making it one of the most popular spots for visitors and locals alike.
The swimming pool at Tahiti Village spans over 3 acres, and features a variety of different water elements, including a lazy river, a sand beach-entry pool, hot tubs, and waterfalls. Find out why 10 Best thinks there's something for everyone at this incredible pool, from kids to adults, and even those who just want to relax and soak up the sun.
One of the most unique features of the Tahiti Village pool is its sandy beach entry, which makes it easy for guests to gradually enter the water without feeling like they're jumping into a cold pool. It's no question why we were featured on USA Today's 10 Best Hotel in Las Vegas for families with kids.
The lazy river is another highlight of the Tahiti Village pool, with its gentle current taking guests on a relaxing journey around the perimeter of the pool. Guests can float along the river on inner tubes, taking in the beautiful scenery and soaking up the sun.
For those who want to relax and unwind, there are plenty of loungers and cabanas available around the pool area, and The Points Guy agrees. The cabanas offer privacy and shade, as well as comfortable seating and amenities like a TV and mini-fridge. The Tahiti Village pool is truly a world-class swimming facility, and it's no wonder it's won the Best of Las Vegas award. It's a great place to escape the heat of the desert and enjoy some fun in the sun with family and friends. If you're planning a trip to Las Vegas, be sure to check out the Tahiti Village swimming pool. With its tropical atmosphere, variety of water features, and endless opportunities for fun and relaxation, it's sure to be a highlight of your trip.
References:
https://thepointsguy.com/guide/hotels-with-best-pools-las-vegas/
https://www.10best.com/interests/hotels-resorts/las-vegas-hotels-families-kids/
https://www.bestoflasvegas.com/listing/2022/family-friendly-hotel-6337