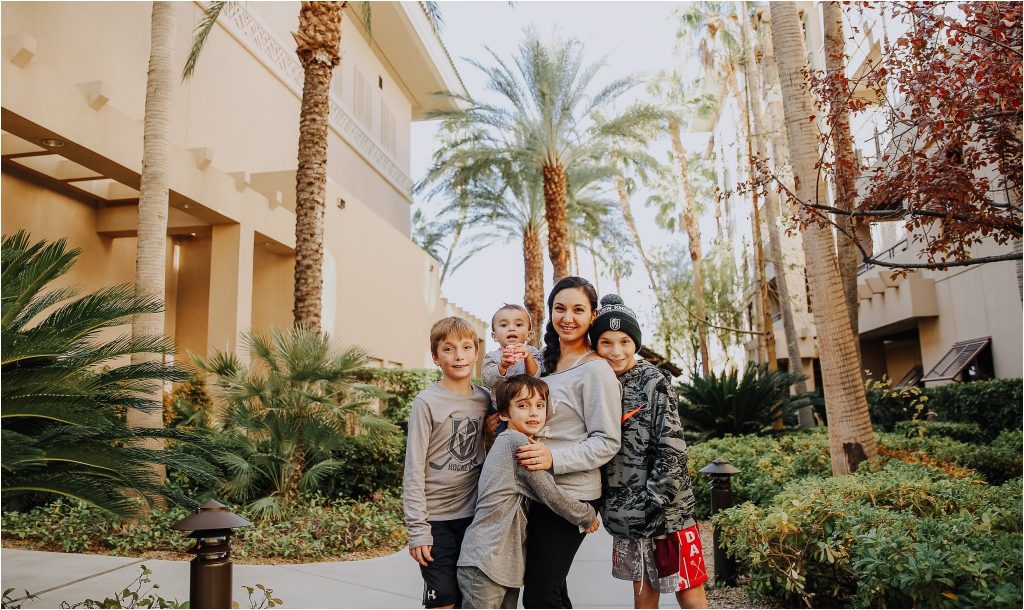 With engaging onsite activities, year-round aquatic attractions and spacious guest rooms featuring full kitchens and private bedrooms, Tahiti Village Resort & Spa is a popular choice of families looking for fun in Las Vegas. Although the busy summer season finds our Tahiti Village tropical beach pool and lazy river at their splish-splashiest, some families prefer to visit during the quiet and comparatively mild winter. One such family is the Lanes, from Wisconsin, who spent a portion of their Thanksgiving visit to Las Vegas at Tahiti Village.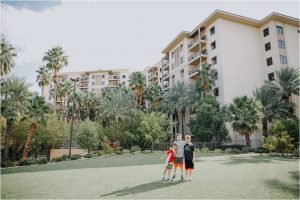 "We decided to run away from Thanksgiving this past year. Las Vegas, the sun and warmth, sounded like a great idea," Jessica Lane blogged on her Memory Lane Photography website. "SO many people said, `Why Las Vegas?!?' or `That's not a very family friendly location!' I had to laugh. Don't get me wrong, Las Vegas is crazy and wild. But when you are a mom to four, we go to bed by 9pm. We miss all that craziness."
Jessica, a commercial photographer specializing in weddings and lifestyle photography, enjoyed several days of fun at family friendly Tahiti Village Resort & Spa with her husband and four boys.
"We were impressed with the hotel and our stay," she wrote. "I loved being surrounded by palm trees and Palapas. The landscape was beautiful."
Our year-round aquatic attractions and new Tiki Cove Arcade were also a hit with the Lanes, as they were with readers of the Las Vegas Review-Journal who voted Tahiti Village the Best Family Friendly Pool and Best Family Friendly Hotel in the last year's Best of Las Vegas contest.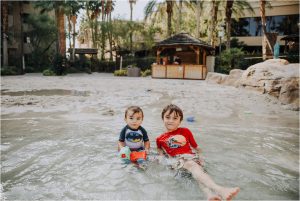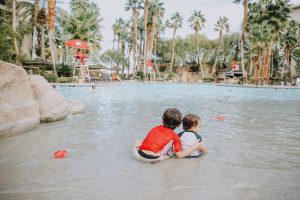 "This resort has a Tahitian-themed pool area with sand beach entry and a renowned relaxing Lazy River, perfect for adults and kids! The Tiki Cove Arcade kept the Lane Boys busy! Jessica wrote, adding: "My family and I had so much fun. Thanks for providing a high quality of customer service and experience for our stay! We look forward to coming back in the summer!"
Thank you, Jessica! We look forward to seeing you and your family again next summer.
If you've never been to Tahiti Village, you simply must experience a getaway to Las Vegas' tropical resort retreat. Featuring a sand-entry beach pool, lazy river, condo-style accommodations, two 24-hour hot tubs, an onsite restaurant and spa, and shuttle service to the Strip, Tahiti Village has everything you need to relax, unwind and get away from it all. In-room amenities in larger one-bedroom and two-bedroom units include a fully stocked kitchen, washer-dryer, jetted tub, steam shower and private balcony for your convenience and enjoyment. Book your stay today!