Las Vegas is a great place for couples to be on Valentine's Day, thanks to an abundance of romantic destinations that will have you and your sweetheart feeling the love. Before heading out for an evening of romance this Valentine's Day, check out our picks for the most romantic places in the city.
Mahana Spa
You don't even have to leave the luxury of Tahiti Village to experience Valentine's Day romance. Visit Mahana Spa and enjoy pampering as a couple. In addition to couples' massages, the spa offers facials, wraps, scrubs, and more. After a day at this luxurious spa, you and your partner will be relaxed, rejuvenated, and ready for even more Vegas-style romance.
Eiffel Tower Restaurant
Gorgeous views and romantic Parisian ambiance await at this posh restaurant located on the 11th floor of the Eiffel Tower in Las Vegas.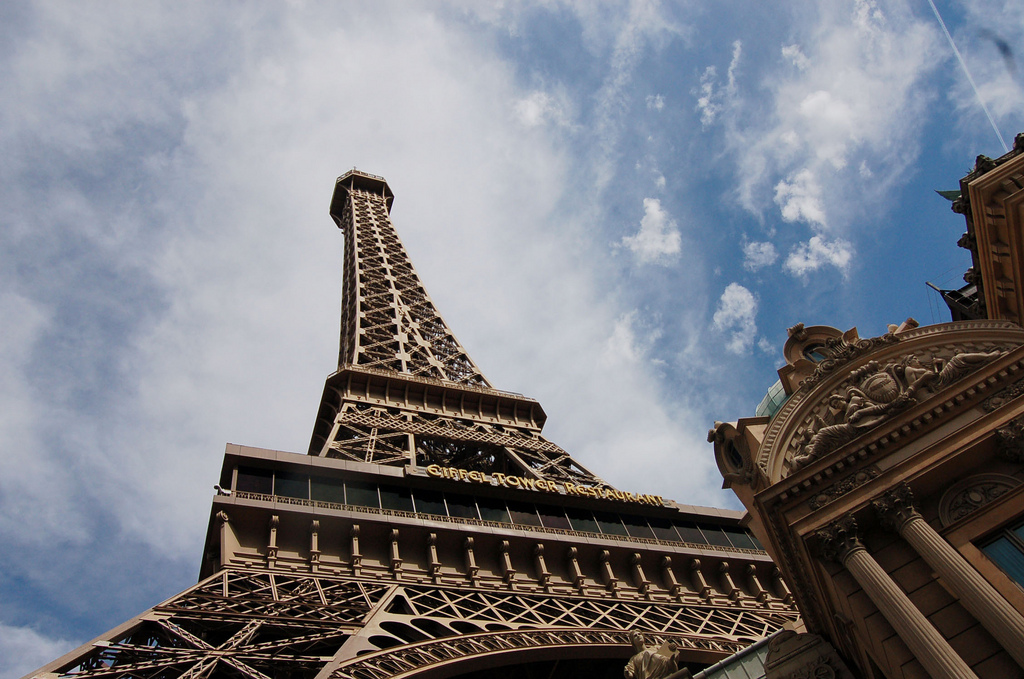 "Eiffel Tower Restaurant" by Britt Reints via Flickr. CC/BY
For an unforgettable Valentine's Day, make reservations for one of their special packages such as the Weekend Gala Dinner or the incredible VIP Package, which includes caviar with dinner and a limo or helicopter tour of the Strip.
Andre's
Treat your sweetie to a taste of the good life at Andre's. This restaurant boasts elegant décor and an incredible menu of gourmet delights. It even has a cozy cigar bar ideal for post-meal relaxation. Andre's special Valentine's Day menu spans five courses and features delicacies like blood orange pannacotta with foie gras mousse, grilled center cut rib-eye, roasted carrot risotto, and red velvet cheesecake — paired with wine or champagne.
Serendipity 3
Treat your valentine to a dessert that's as sweet as they are at Serendipity 3 — a Las Vegas ice cream parlor that's casual yet still exceedingly romantic. You and your loved one will feel like teenagers again when you bond over burgers and fries, followed by one of the establishment's incredible sundaes. Serendipity is also home to the $1,000 Golden Opulence Sundae — a record-breaking confection made with fine chocolate and real 23-karat edible gold leaf.
The High Roller at LINQ
For couples looking for a breathtaking thrill this Valentine's Day, consider the High Roller at LINQ. Cuddle up with your sweetheart on this observation wheel, which happens to be the world's tallest.
"The Money Shot" by Don McCullough via Flickr / CC BY
You'll enjoy amazing views during your 30-minute air-conditioned ride; afterward, hit the LINQ Promenade for a romantic stroll and fabulous shopping and dining.
Tahiti Village has everything you're looking for in Vegas accommodations. In addition to the Mahana Spa, you'll love the tropical-themed pool area and incredible lazy river. There's also a fully-equipped fitness center for when you feel like a workout and elegant, comfortably appointed suites for when you're ready to relax. Book your suite today and prepare to experience a tropical oasis in the heart of Vegas!